Surely all of us have seen and heard of the hit Anime Pokemon movie. As the childhood of many people and still famous to this day, Anime Pokemon is not only an entertaining movie, but it is also a place to store the childhood memories of millions of people. The Pokemon world is extremely interesting with Pokemon in many different forms from animals, and plants to tangible objects. Pokemon have super strength and strong evolutionary abilities. Under certain circumstances and conditions, a Pokemon will transform into another Pokemon with stronger characteristics than before and can change the Pokemon's system.
Peorugs is a place to provide unique Pokemon Rugs, you can find all the Pokemon you like in our online store. Besides, because the Pokemon world always produces new species, so Petorugs also constantly updates new Pokemon species with different characteristics and powers. If you are a longtime fan of Anime Pokemon, then immediately discover the top 10 most valuable Pokemon carpets for your home.
Ash Ketchum Pokemon Rug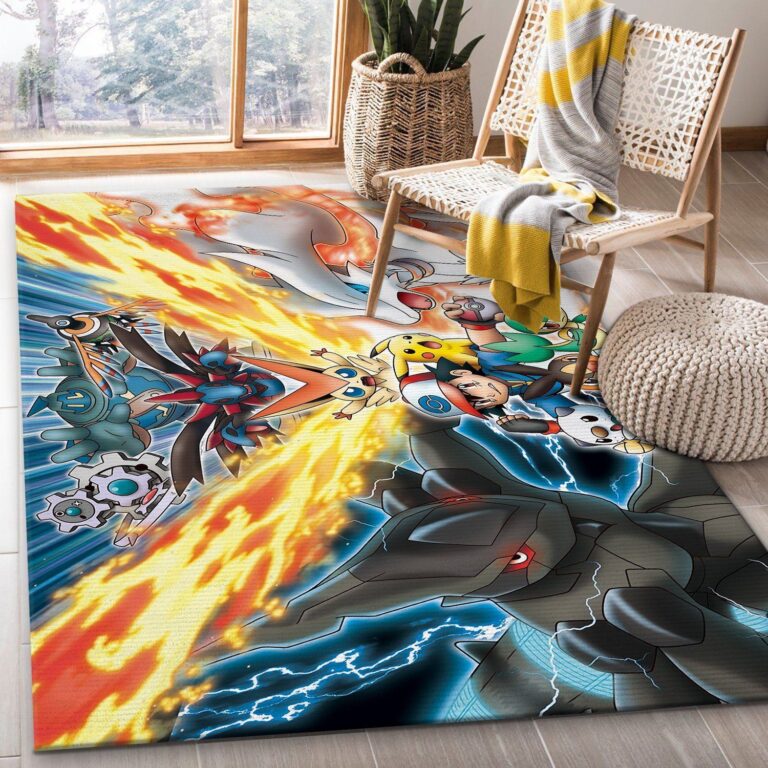 Ash Ketchum (Japanese: Satoshi) is the main character of the Pokemon anime. He is a Pokemon trainer from Pallet town with the goal of becoming a Pokemon master. In his journey around the Pokemon world, Ash Ketchum has been accompanied by countless close friends and has gone through countless Pokemon battles to increase his experience. He is a cheerful, kind person who constantly strives to achieve his dream of becoming a Pokemon master. This image of Ash Ketchum Pokemon Rug is taken from the Pokemon anime movie in super hot episodes about legendary Pokemon.
Dragon Pokemon Rug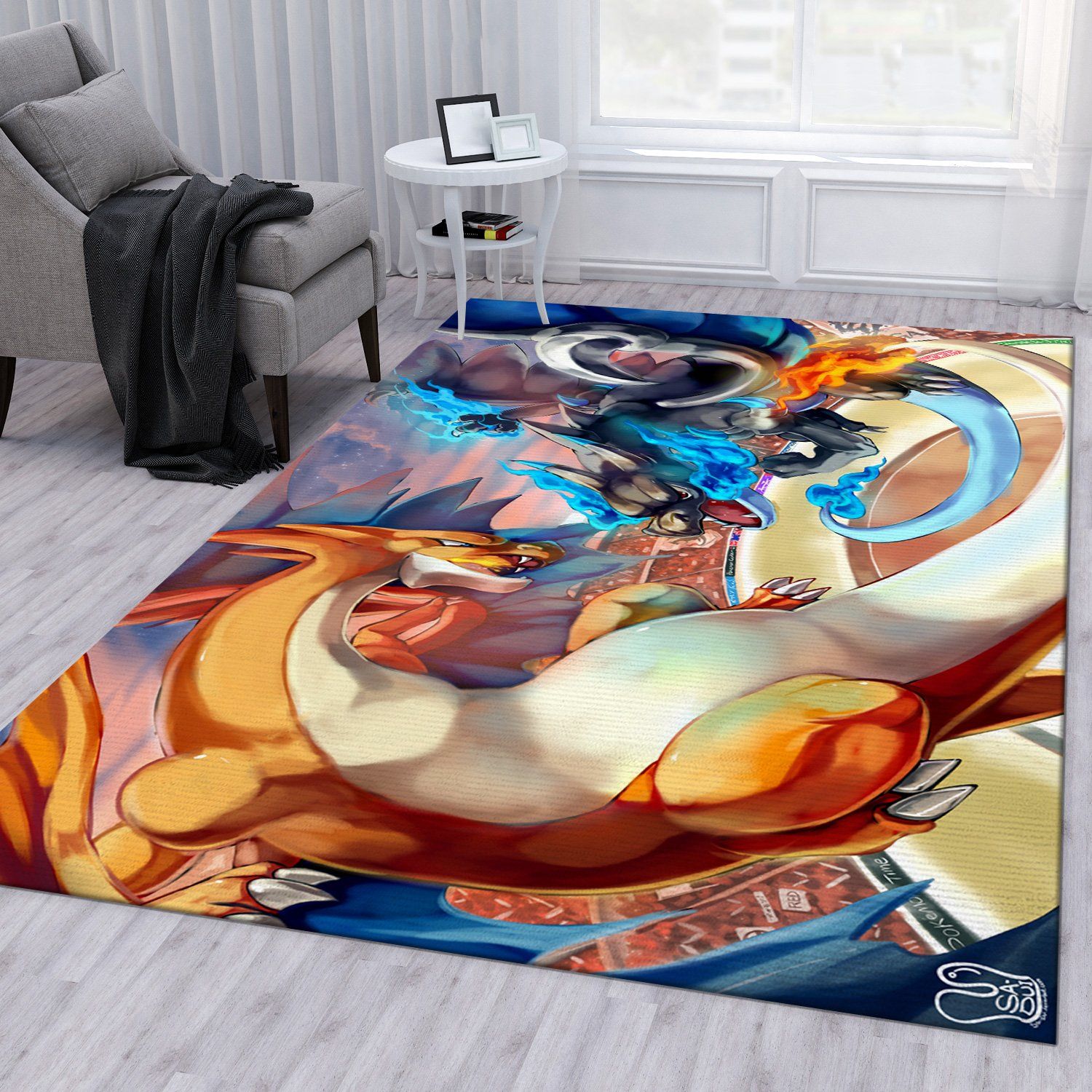 Dragons are one of the most powerful and difficult-to-catch Pokemon. 9 Mythical Pokemon belonging to the dragon species are enough to understand how powerful dragons in the Pokemon world are. They are notoriously difficult to train because they require a lot of EXP per level, so the evolution time is often very long, so the trainer must work very hard to help the dragon Pokemon evolve to the highest level. Above is the fight between 2 Charizard dragons that evolved in 2 different Mega forms in Dragon rug.
Dratini Pokemon Rug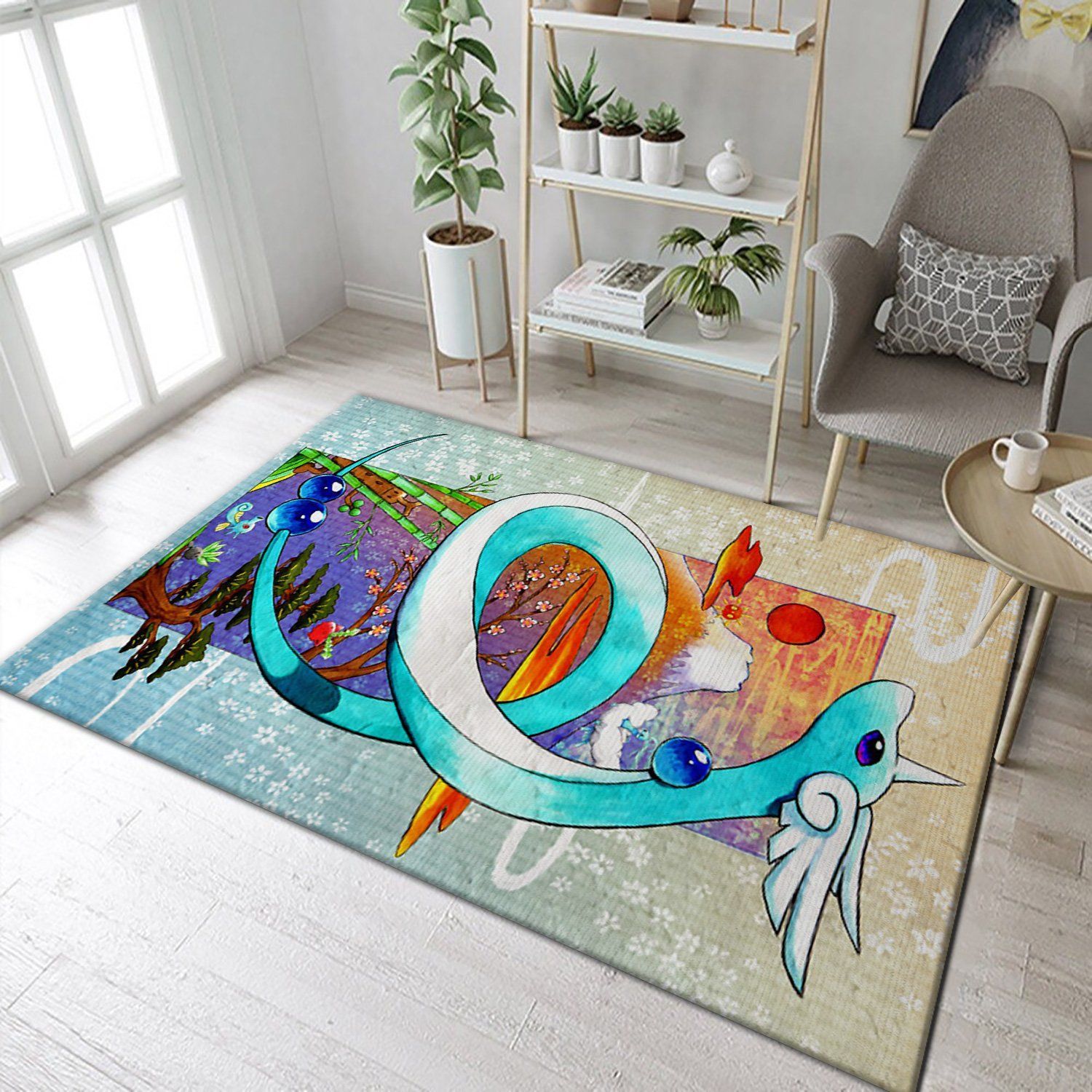 Dratini is a reptilian Pokemon with a blue zigzag body and white underside. Dratini has white wings on the sides of his head and a white horn on his forehead. Dratini's vital energy is constantly increasing so it can reach a length of 6 feet. Dratini is a powerful dragon-type Pokemon, in its weakest form, its shelter is usually fast-flowing waterfalls. Dratini has three evolutionary forms: Dratini, Dragonair, and Dragonite. The image of the Dratini Pokemon rug above is the evolutionary form of this dragon.
Eevee Pokemon Area Rug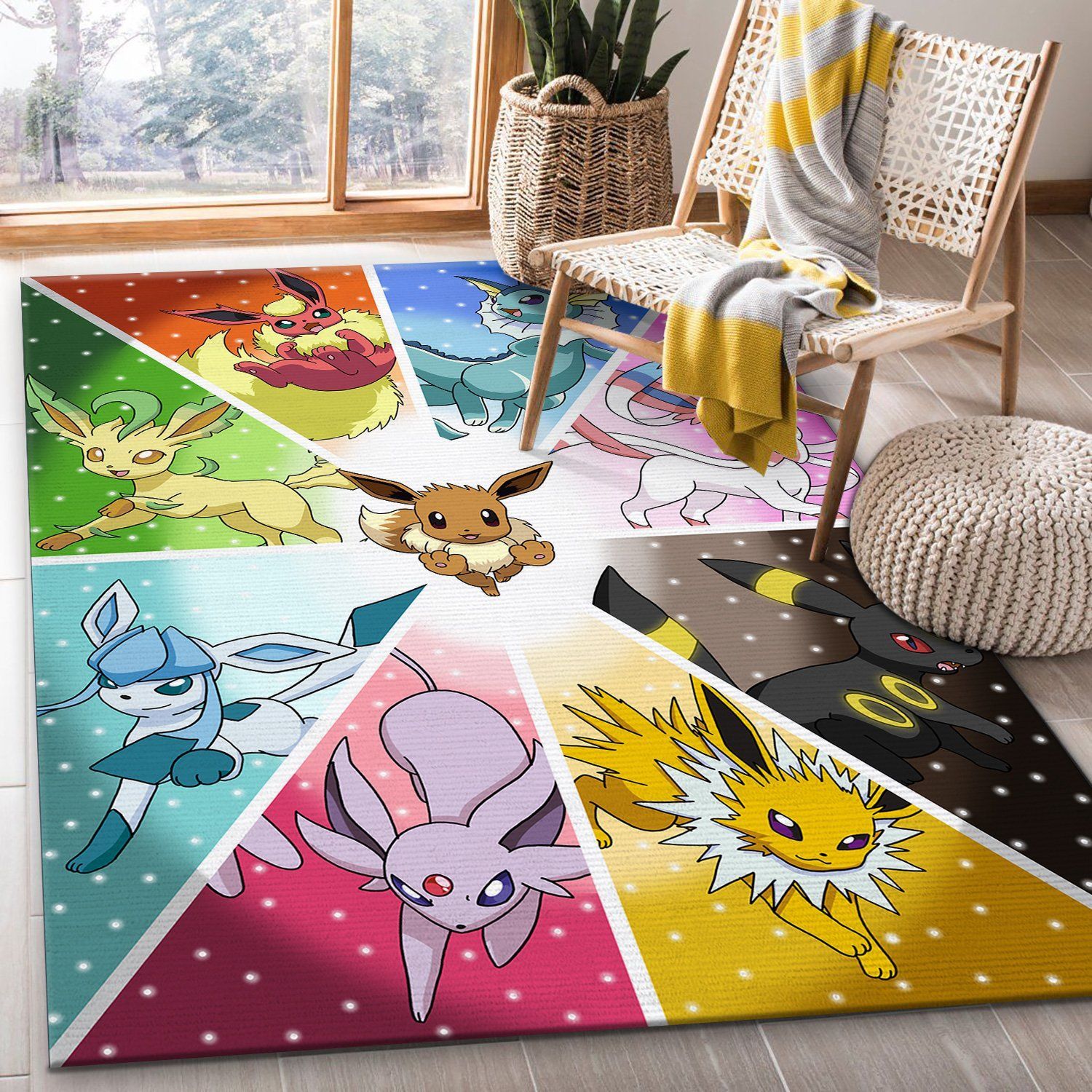 Eevee is one of the most adorable cat-like Pokemon with long rabbit ears. Eevee has an unstable genetic makeup that allows it to evolve into one of eight different Pokemon. Depending on the situation and evolution conditions, Eevee evolves into Vaporeon, Jolteon Flareon, Espeon, Umbreon, Leafeon, Glaceon, and Sylveon. Each form of evolution has different attributes and powers depending on the wishes of the trainer. The Petorugs Eevee Pokemon Rug clearly shows the evolved form of this adorable Pokemon Eevee.
Ivysaur, Bulbasaur & Venusaur Rugs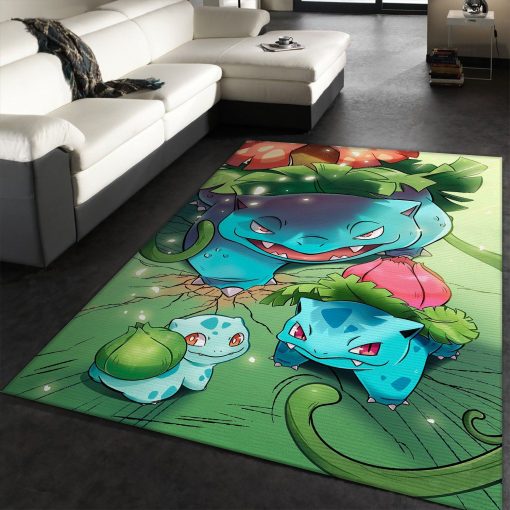 Ivysaur is a blue quadruped amphibian Pokemon, on its back is a large pink flower bud with two rattan whips for the attack. When it comes to Bulbasaur evolution, Ivysaur often gathers in the plains where there is plenty of light to absorb energy and strengthen both Ivysaur and its trees. The image above is a Pokemon carpet with three evolved forms, Ivysaur, Bulbasaur, and Venusaur. If you love this species of Pokemon, then immediately own the Petorugs Pokemon rug.
Pika Pika Pokemon Rug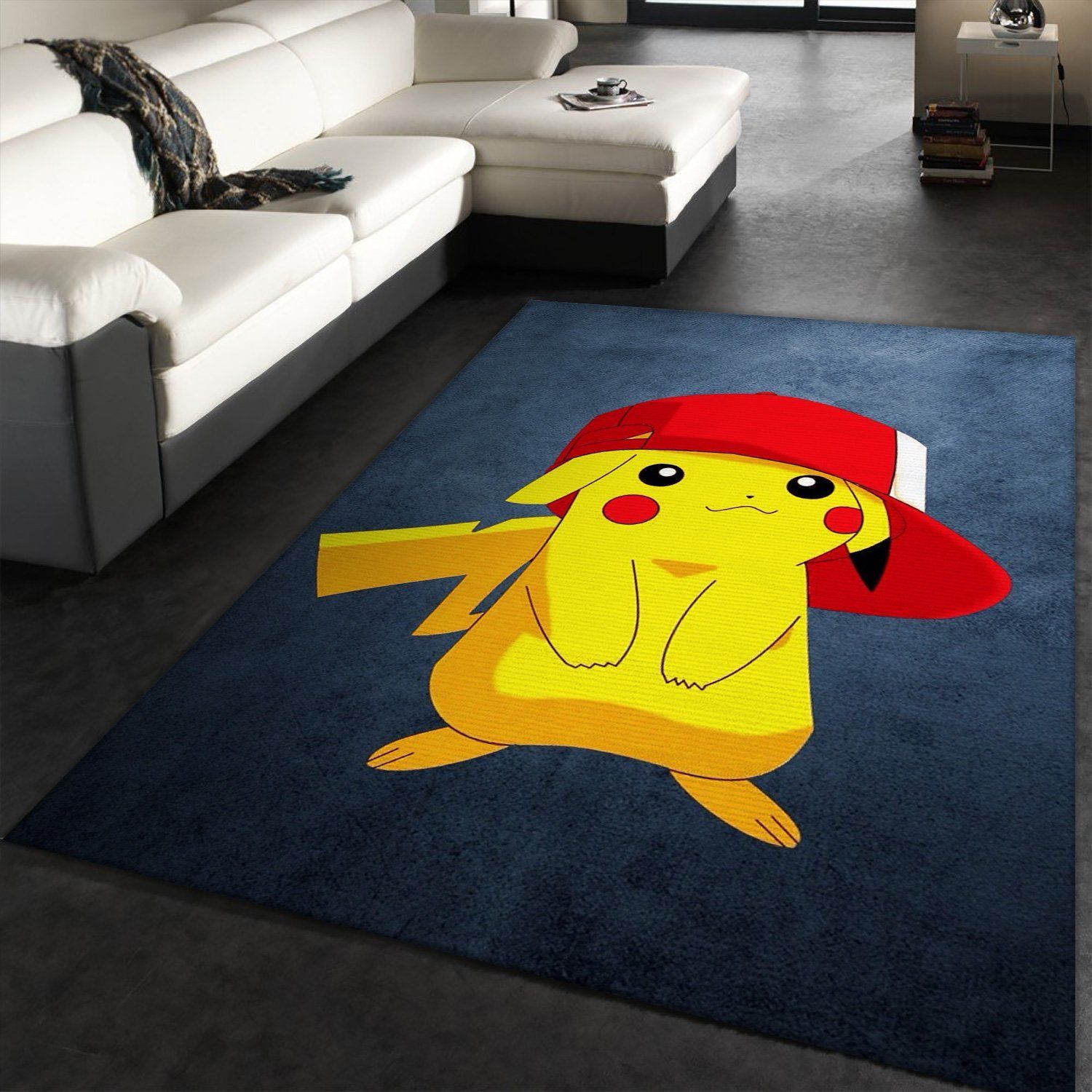 If you are a longtime fan of the Pokemon anime movie, then surely you already know Satoshi's Pikachu mouse. Pikachu is an electric mouse Pokemon that has power storage pouches on both cheeks. Pikachu, usually living in the deep forest, are very intelligent species that know how to use electricity to bake and eat hard fruit. Satoshi's Pikachu is the most special animal when it does not choose to evolve to increase its strength, but relies on effort and combat experience to defeat other strong opponents. The image of Pikachu wearing Satoshi's hat on the Pika Pika Pokemon rug is an interesting and cute image of this mouse Pokemon.
Mewtwo Pokemon Go Rugs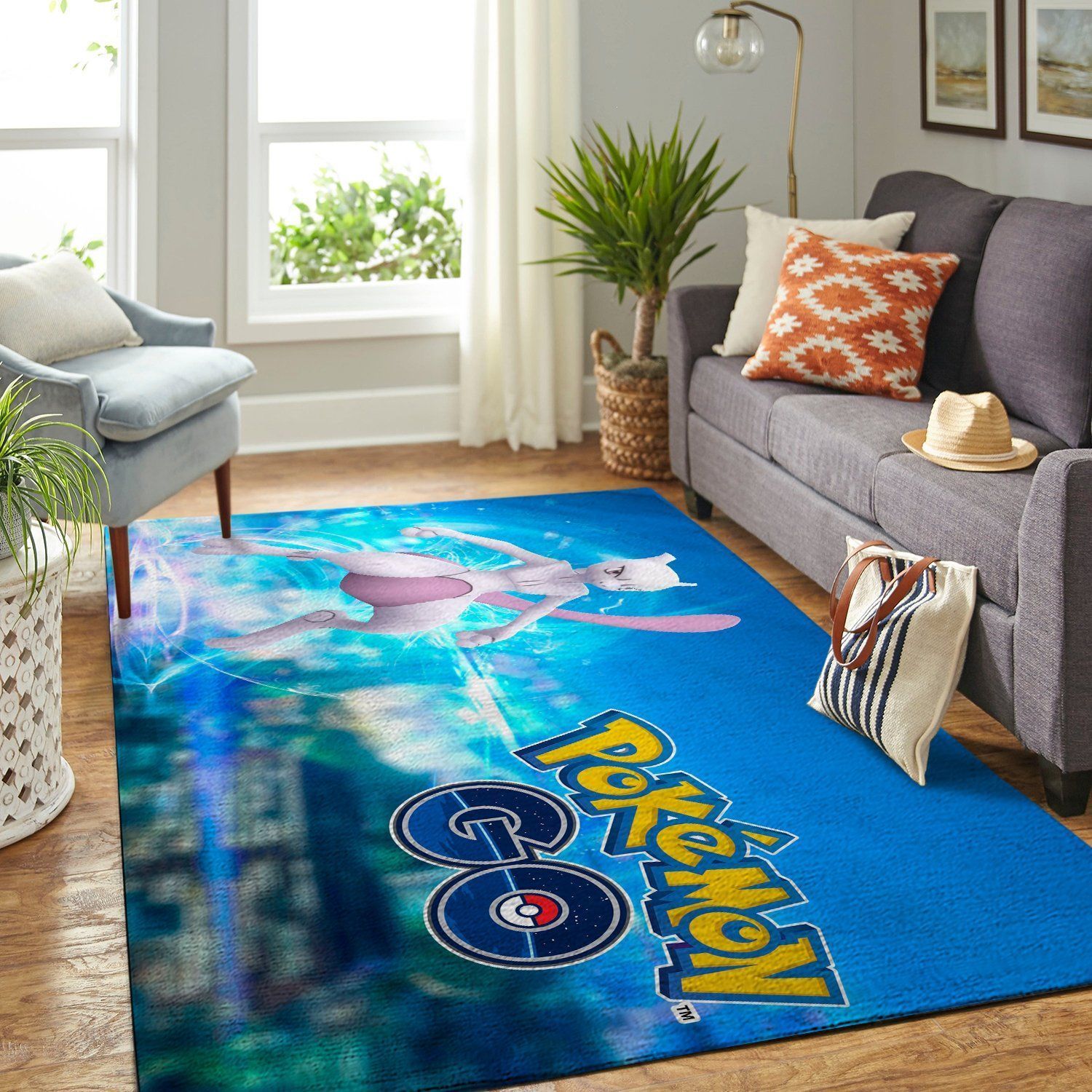 Mewtwo is a Pokemon created through genetic manipulation. Even though the advanced science of mankind has created its body, it lacks a compassionate heart. Mewtwo is a psychic-type Pokemon that carries the power of Legendary Pokemon. If you love this cool and powerful Pokemon, then immediately own Mewtwo Pokemon Rug at Petorugs.
Pokemon Legendary Moon And Sun Rugs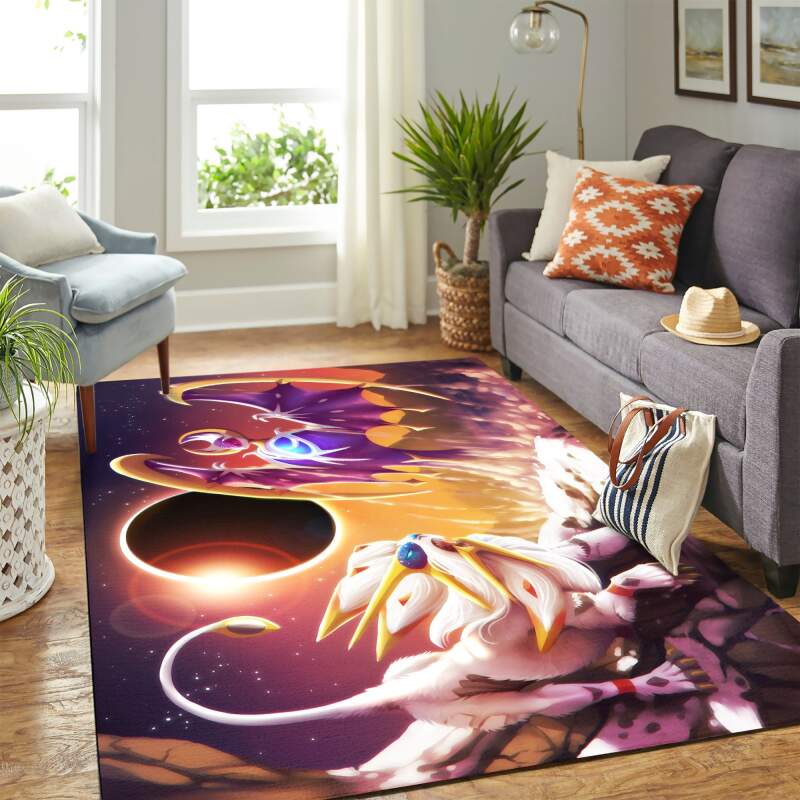 Pokemon Legendary Moon and Sun are two Pokemon named Lunala and Solgaleo. The first evolved form of these two legendary Pokemon is Cosmoem. Lunala is a legendary Pokemon that is both a Psychic and a Ghost and resembles a giant boneless bat. Solgaleo is a legendary dual-type Psychic and Steel Pokemon. The shape is like a white lion and has light blue eyes. If anyone has watched the episode of these two legendary Pokemon species, they will surely love them because of their strength and beauty. Let's go to Petorugs to buy this Pokemon Rug
Pokemon Family Anime Movies Rugs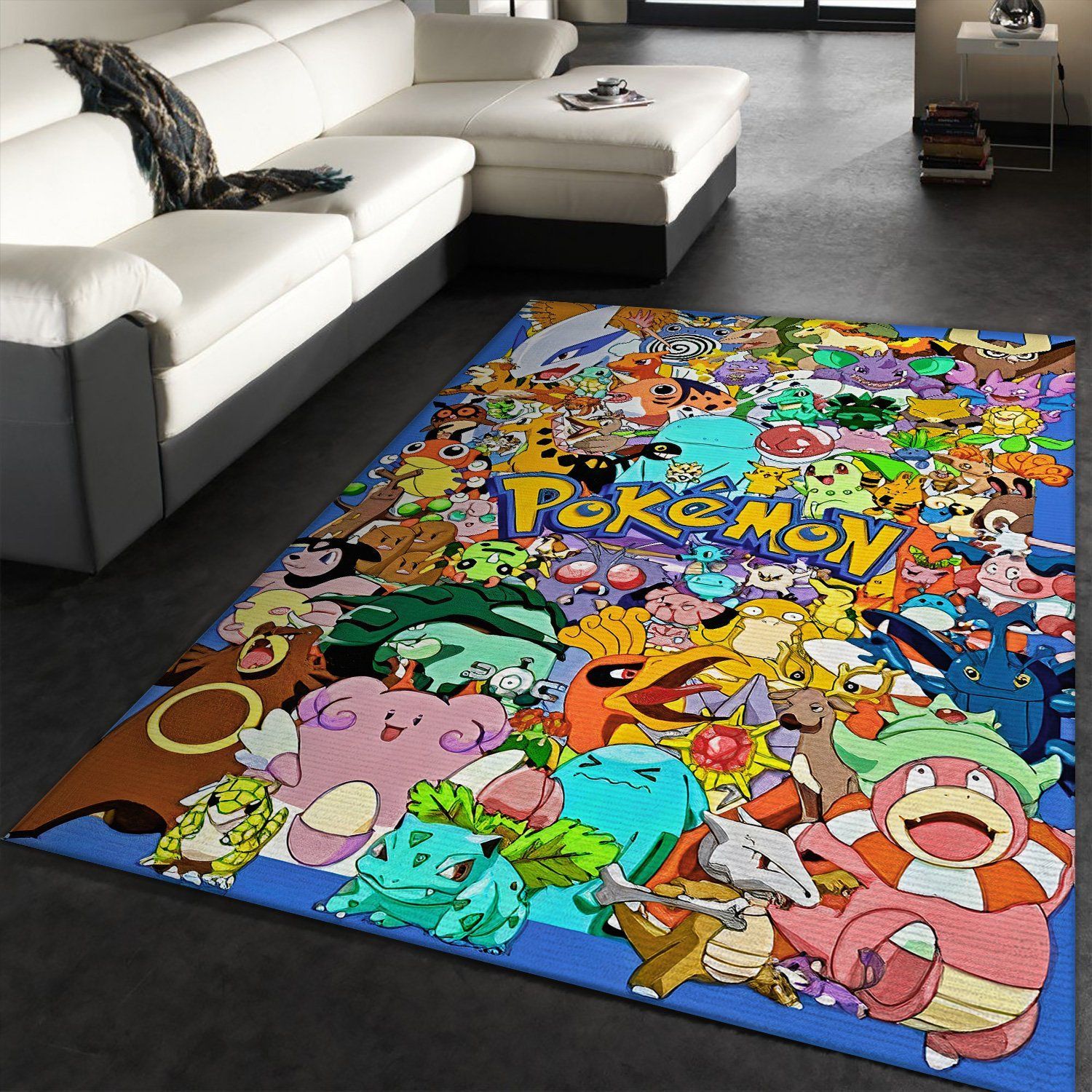 In the Pokemon world, there are many different species, each with its own unique shape, strength, and characteristics. There are regular Pokemon and powerful Legendary Pokemon that carry great power. With Pokemon Family Anime Movies Rug, you will admire countless different Pokemon species in a huge frame.
Pokemon Merry Christmas Anime Movies Area Rugs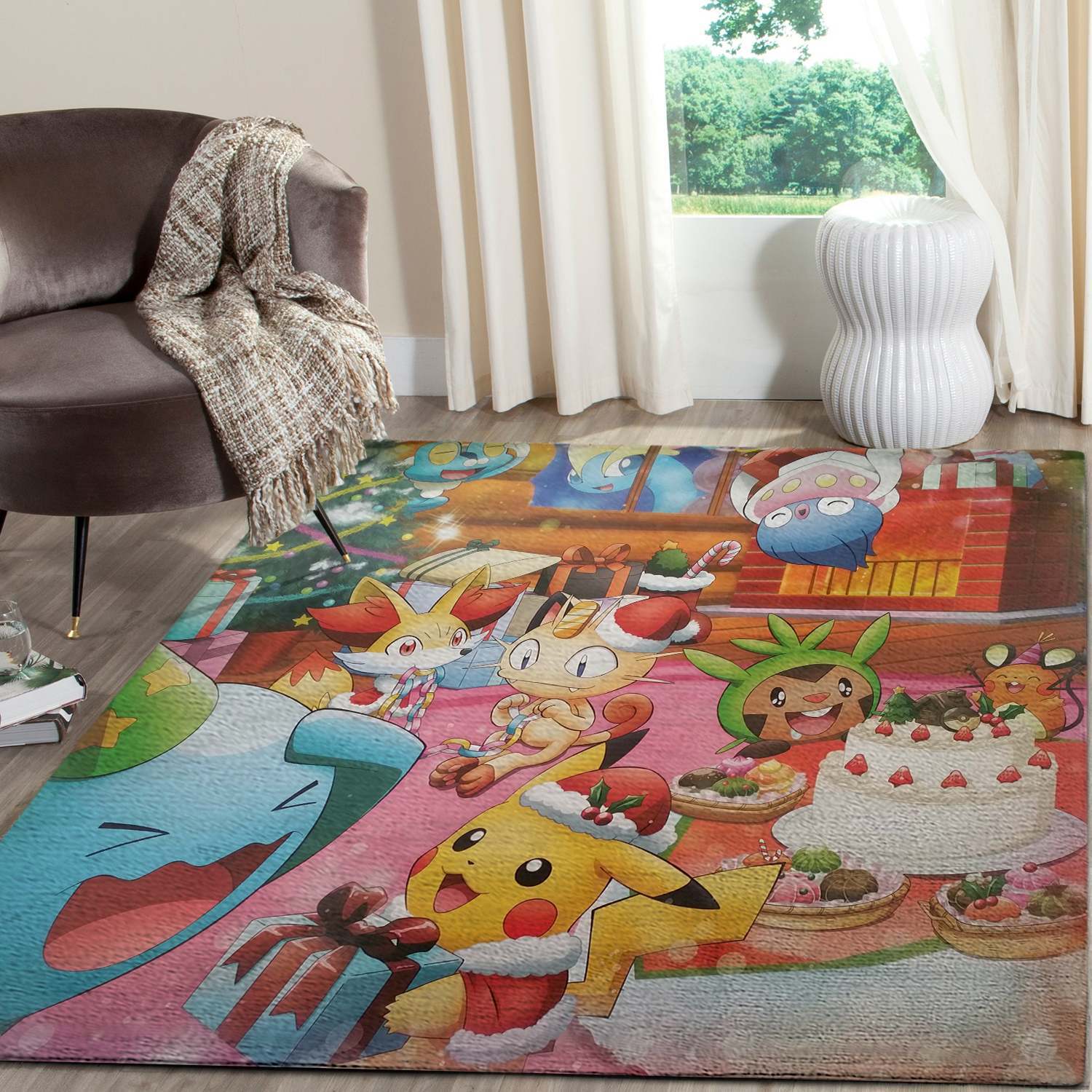 In addition to fiery battles and heroic images of Pokemon, Petorugs wants to bring fun images of Pokemon as well. With Pokemon Merry Christmas Rug, you will have a lovely and peaceful perspective of Pokemon. The image of Pokemon celebrating Christmas and giving gifts is very interesting, isn't it?
Wrapping Up
Above are a few outstanding products about the Pokemon world that you may be interested in. If you love and want to own a Pokemon collection, go to the Pokemon Rugs store at Petorugs for support and great deals for you. 
Hurry up to own yourself the latest and best collection!