Minions Rug is one of Petorugs' loveliest area rugs. If you are a person with a lovely personality who likes small yellow objects, then the Minions area rug will be the perfect decoration for your home. The cute image of Minions is taken from the comedy scenes in the cartoon. In addition, with a variety of sizes, you can easily choose the right area rug for your living area. The polyester material also gives the Minions carpet high durability and good dirt resistance. With our area rugs, you no longer have to worry about the carpet denting when heavy objects are placed on the surface.
You can also choose Minions area rug as a gift. Area rugs will be the most outstanding gift you can give your loved ones on special days like Christmas. Explore the top 9 funny Minions area rugs below to choose the best one for your home.
DESPICABLE ME: MINIONS RUG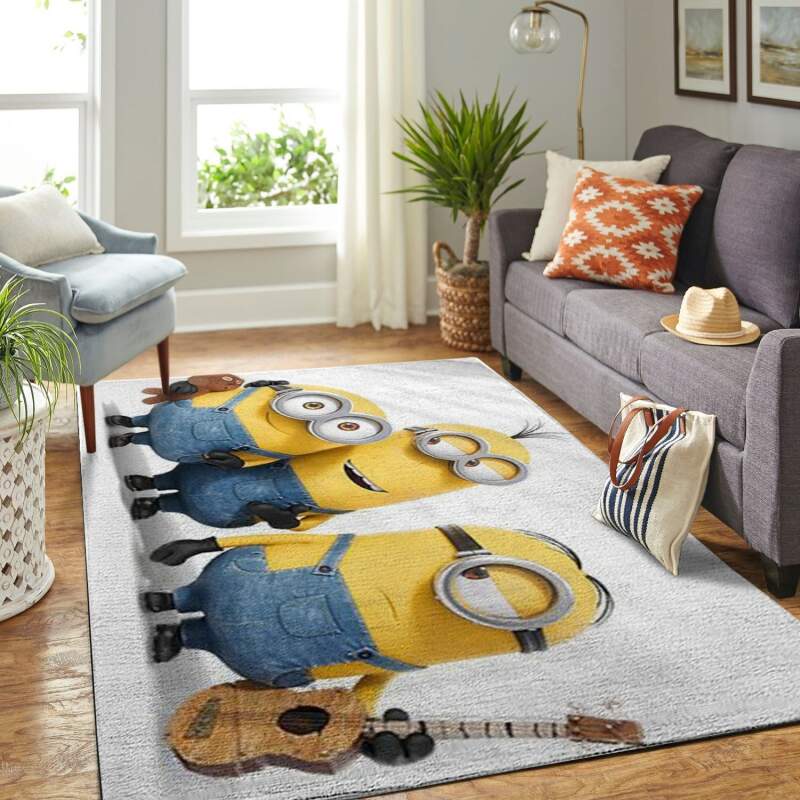 The first Minions rug product that we want to introduce to you is the image of the most famous minions trio Kevin, Bob, and Stuart. Minions" is filled with bright yellow colors of funny and goofy creatures.
Check out the Minions artwork printed on our area rugs, the bright colors and adorable Minions trio will be fun decorations for your home. Make your room fun with Minions carpet.
DESPICABLE ME: CHRISTMAS TREE MINIONS RUG
Christmas is approaching! Soak up the hustle and bustle this holiday season with a Christmas tree minions rug. The image of the mischievous trio Kevin, Bob, and Stuart wearing Christmas suits next to a super-sized Christmas tree is what Petorugs wanted to show in our carpet product line.
With bright colors, lovely images, and a cozy Christmas atmosphere, this Minions rug will be the perfect decoration for this holiday. You can also buy Minions carpet as a meaningful gift for your loved one.
HALLOWEEN MINIONS DESPICABLE MINIONS RUG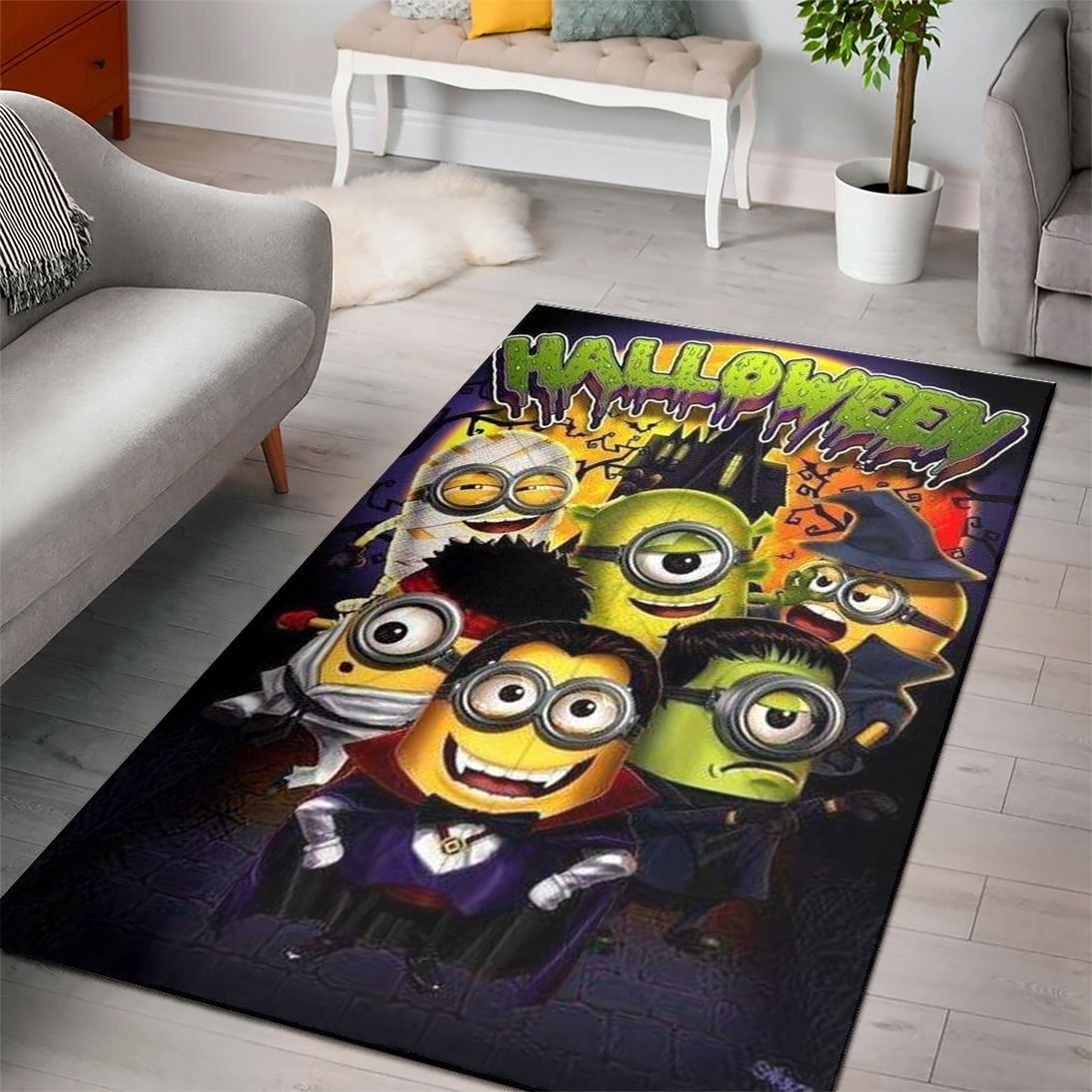 Another interesting image that Petorugs wants to bring to you is the image of Minions in Halloween costumes! With a witty, mischievous personality, when Halloween comes, it's time for Minions to show their jokes.
Looking at how the Minions play the role of demons on Halloween, this will definitely be the Halloween area rug that you should have in your home.
HITMAN MINIONS DESPICABLE MINIONS RUG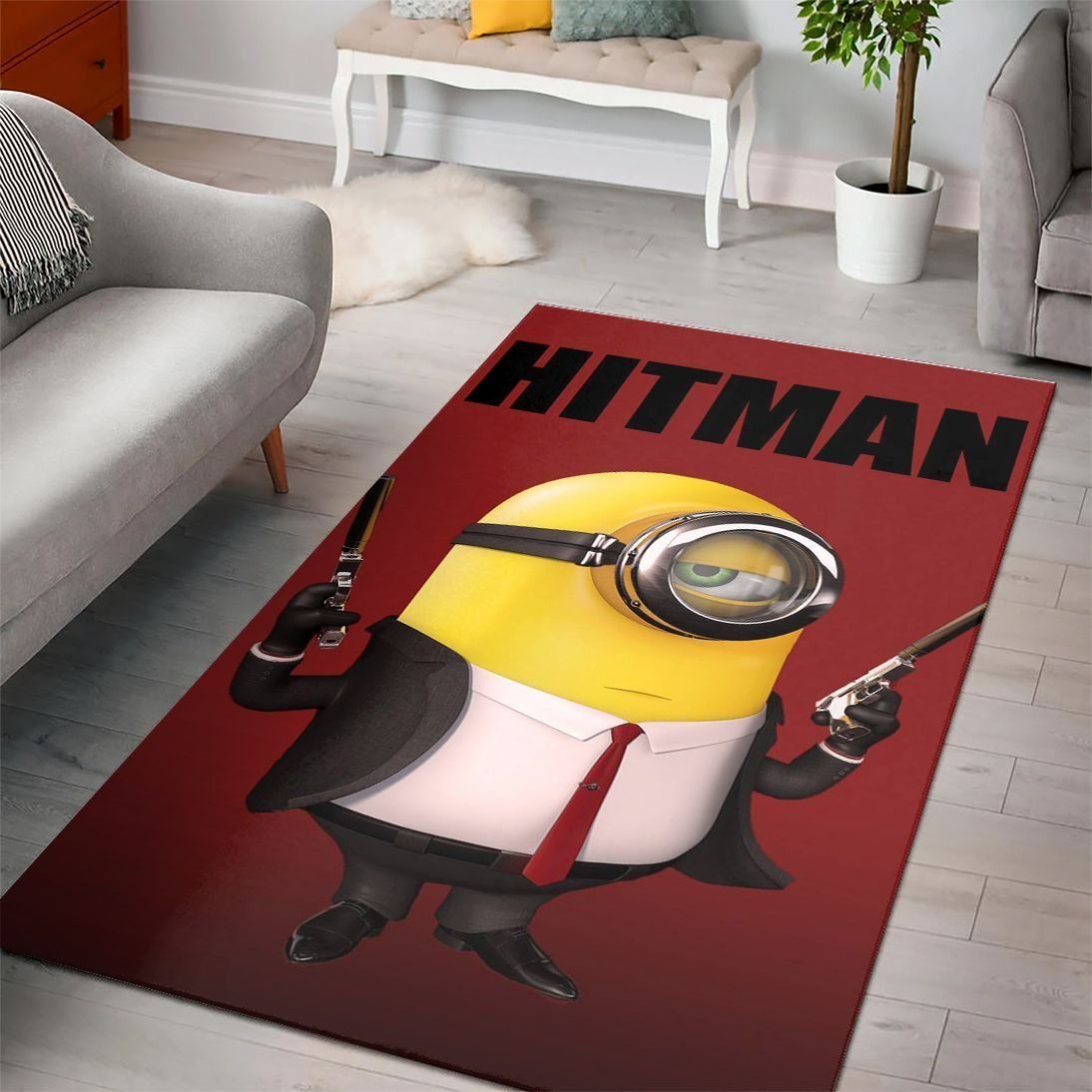 One of the unique images of Minions is the image of Stuart transforming into a Hitman in the Hitman Minions rug. Have you ever imagined this smart and calm Stuart Minions transforming into Agent Hitman? Hitman Minions carpet is a super cool image of Minions holding two guns. If you love this Stuart character and want to turn him into a professional agent, you should definitely not miss this area rug product!
AVENGER MINIONS DESPICABLE MINIONS RUG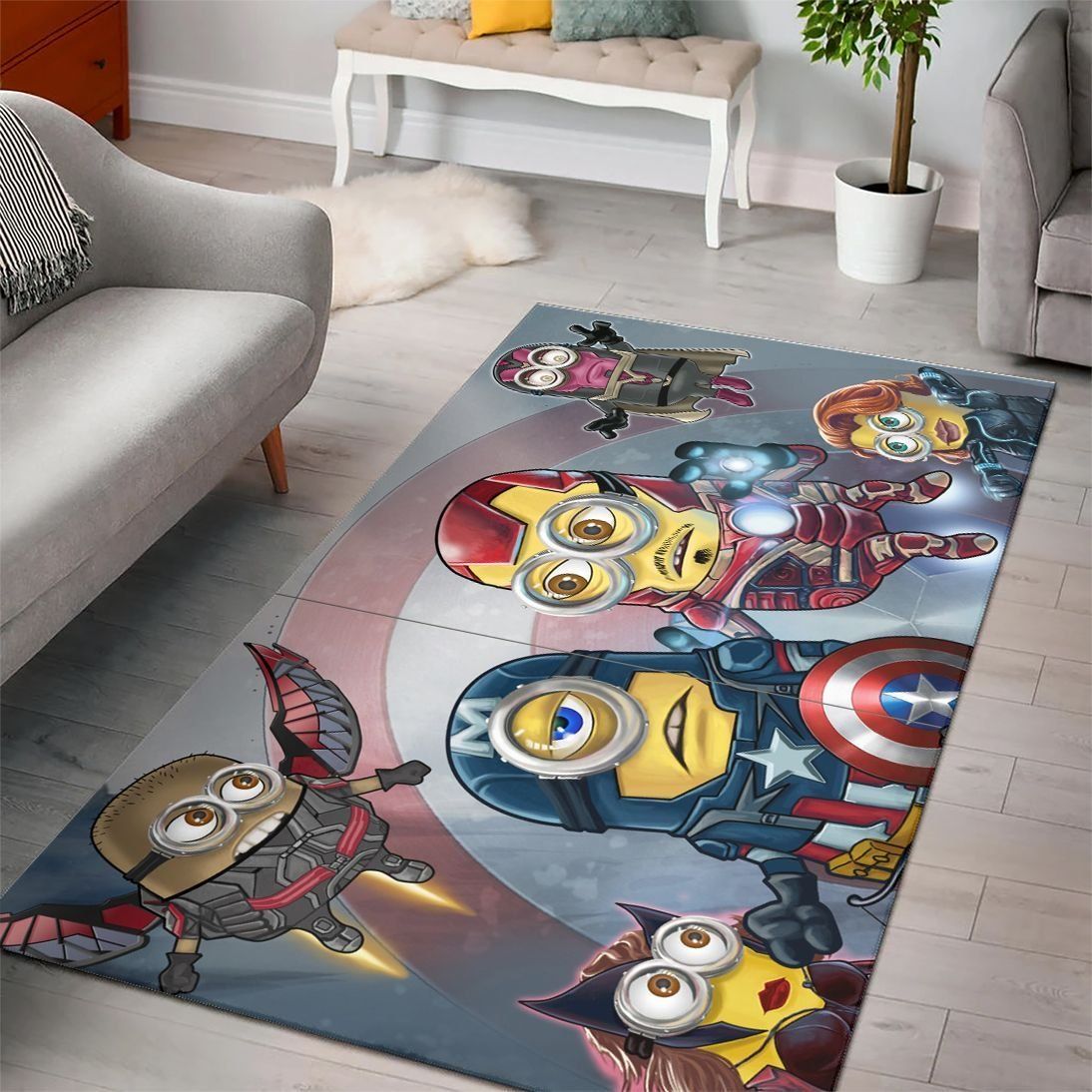 Next is a carpet product with a super interesting and unique image of Minions – the Avenger Minions rug. In addition to the Minions' mischievous, destructive and humorous moments, Petorugs wants to turn Minions into superheroes in the Avengers. Avenger Minions rug with the appearance of famous superheroes like Captain America, Ironman, etc will be a unique home decoration for you.
ILLUMINATION MINIONS POISON IVY RUG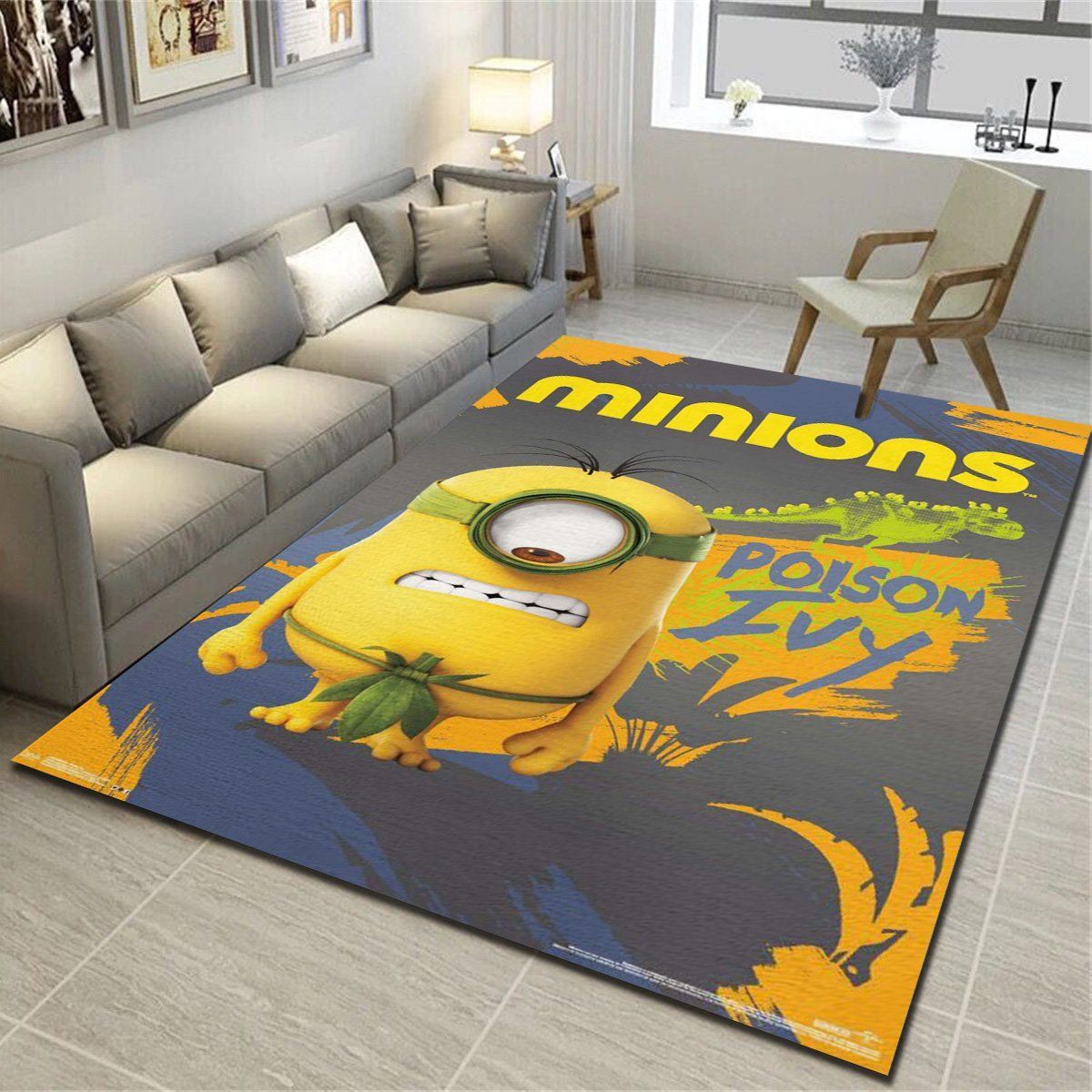 Minions Poison Ivy is probably the super funny image of Stuart! The goofy image of Stuart with only one leaf to cover his body is hilariously expressed through the Minions Poison Ivy rug. Look at the vibrant colors and images that are on the carpet, you will surely be attracted and want to decorate your home with this Minions rug.
IT'S PIRATE CRAWL DAY MINIONS RUG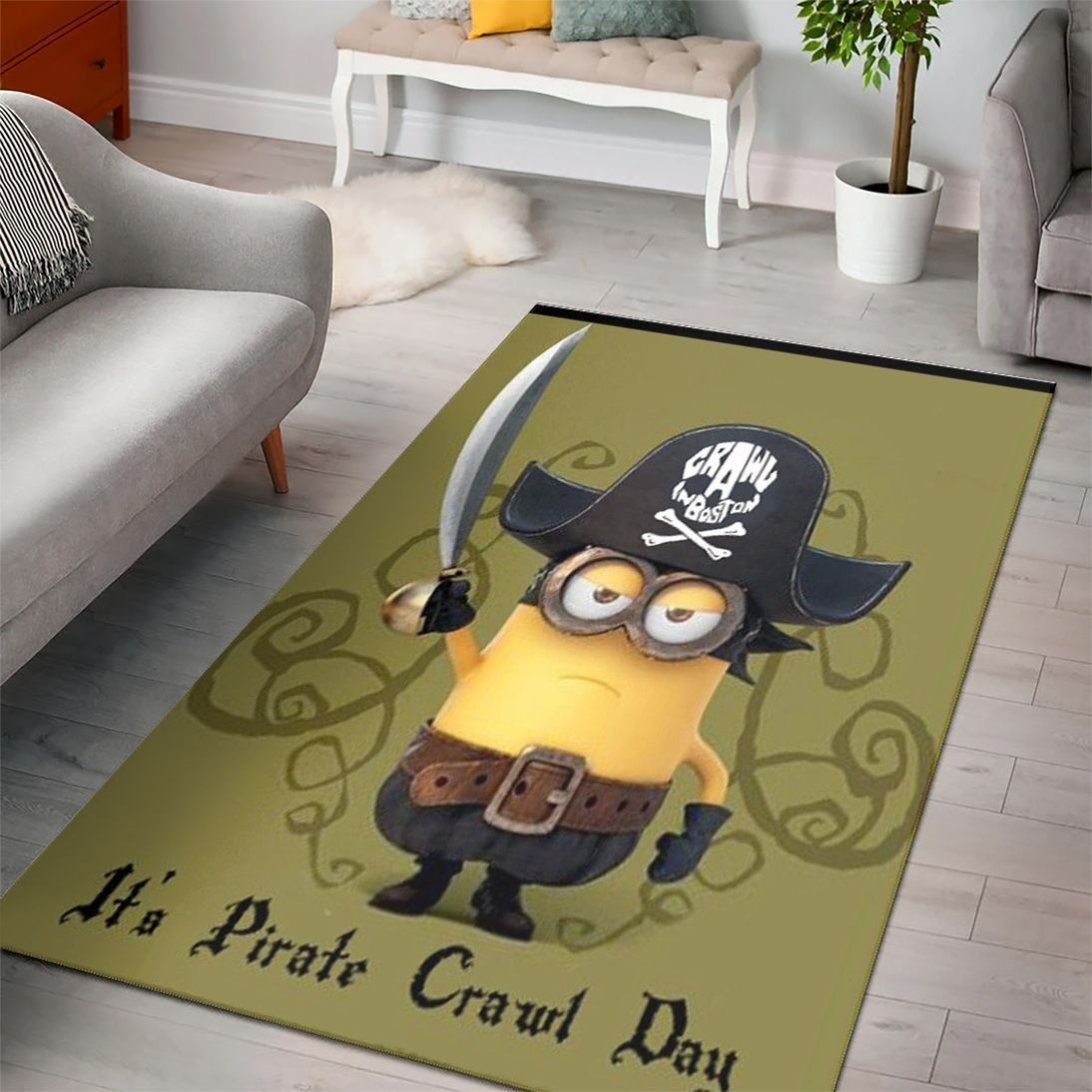 It's time to explore the sea! Kevin Minions donned a pirate suit with the words It's Pirate Crawl Day printed clearly and faithfully on our Minion Despicable rug. With deep colors and unique images of Minions, this Minions rug is suitable for those who are looking for a dirt-free carpet. Dark colors are one of the effective ways to keep your home clean. Choose Minion Despicable rug to both have a unique decor and keep your table dust free.
MINIONS POWERED BY BANANAS RUG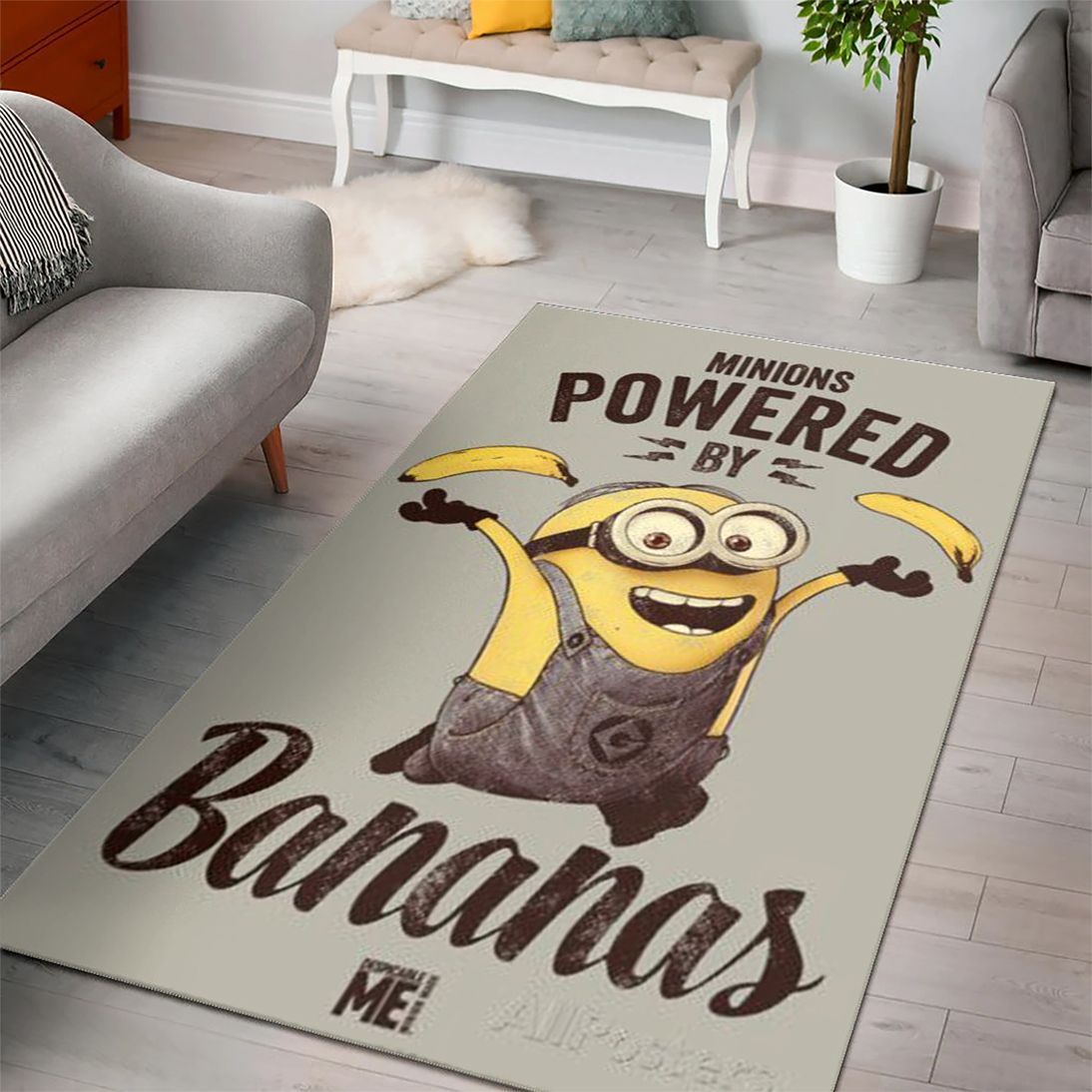 Minions Powered by Bananas rug features an image of Stuart happily with his bananas. You probably know that Minions love bananas, so it's not surprising that Minions are always happy to eat bananas.
In addition to the fun and cuteness that Minions rug brings, this area rug is also very suitable for your other room space. With bold colors, you don't need to worry about the area carpet showing stains. In addition, with polyester material, cleaning the carpet also becomes very easy.
MERRY CHRISTMAS MINIONS AREA RUG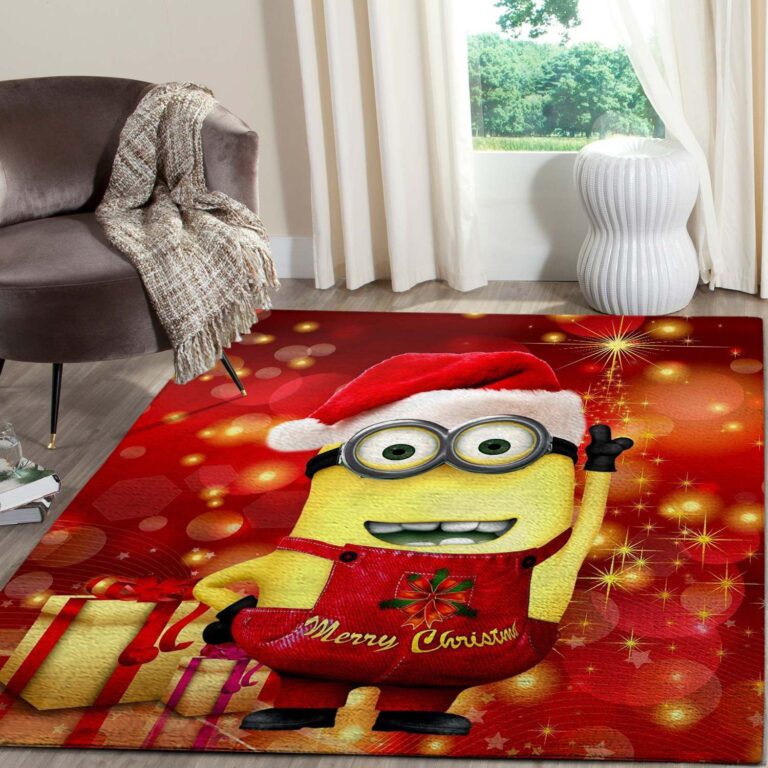 The final carpet product that we want to bring to you is an image of Kevin smiling and waving in a Christmas suit. Surely this will be the perfect home decoration for this big holiday. With the red color of Christmas with sparkling effects, the Merry Christmas Minions rug will brighten up your home, and decorate your house more bustling and joyful. This area rug is also especially suitable for your loved ones, especially families with small children. Minions always have a special affection for children, so when you use Minions rug as a Christmas gift, they will surely be very happy.
WRAPPING UP
The funniest and funniest Minions area rugs have been compiled by Petorugs above. If you love this cute and goofy minion then quickly order Minions carpet at our store.
At Petorugs you will find affordable, high-quality area rugs and FREESHIP vouchers.